How to select your Dolphin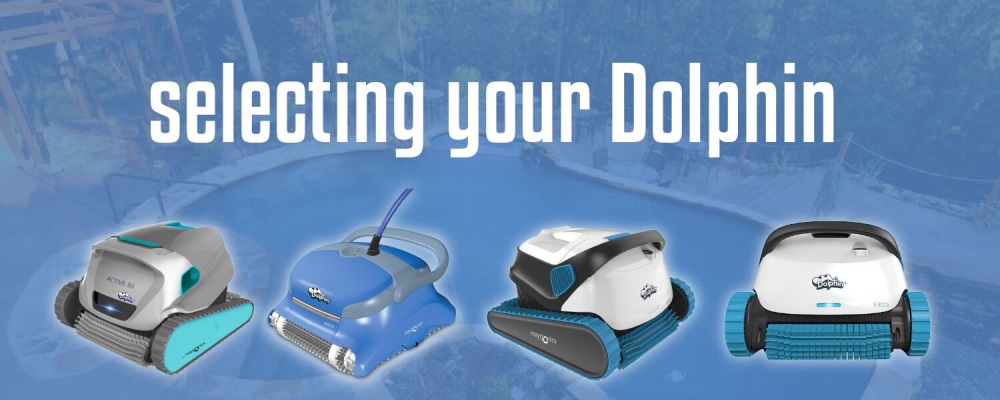 By far the number one question we handle at Pool Partz is "What Dolphin should I buy? There are so many choices out there and I don't know which one is best for me". Many of our customers have suffered from this "analysis paralysis" where there are an overwhelming number of Dolphin pool cleaners available for purchase and they simply can't decide which unit they want. We want you to know we hear you loud and clear! Because of this, we have spent great time and energy developing a web site that is easy to use to find the model that meets your needs. We implemented product filters when you are navigating our site so you can select the features of your pool and select the features of the pool robot that are important to you. Additionally, we developed a product comparison feature so that you can see the difference between two models. So, how do I know which one is best for me? We'll tell you...

Pool type
The type of pool that you have (above ground or in ground) will dictate the different models that you can select from. Some of the Dolphin models have been designed exclusively for use in smaller above ground pools where minimum number of robot features are required - you drop it in the pool and remove it once the robotic pool cleaner has completed its cycle. For irregular shape pools, however, more features are usually needed and it is recommended that you select a higher end unit as they have better maneuverability around the shape of the pool.
Pool size
The pool size is a factor in the selection of the pool cleaner as the larger the pool, the more surface area the unit needs to cover so you want to select one that has a longer cycle time (ideally, one with multiple cycle times so that you can control the amount of time you unit spends cleaning).
Robot cleaning surfaces
While all Dolphin pool robots can clean the floor, some models can also clean the walls and the higher end models will even scrub the waterline. Do you get algae at the top of the waterline that you have to periodically scrub to keep your pool clean? If that's the case, choose a unit that scrubs the waterline so that your pool maintenance is minimized.
Robot features
After you have narrowed down your choices based on your pool type, the pool size and the cleaning surfaces that you would like to cover, you should be left with a few choices. In some cases (like choosing between the Nautilus CC and Explorer E20), the only difference may be the robot chassis or color. If that's your case, you can simply pick the color you like and proceed with the purchase confident that the model you selected is the right one.
Which Dolphin robot should I choose?
Based on prior year sales and current sales in 2023, these are the most popular choices by our customers based on their pool type and desired features. These Dolphin pool robots are consistently both the top rated and top selling Dolphin pool cleaners.
Above ground
Dolphin E10
Small in ground or above ground with slope to climb walls
Dolphin Nautilus CC
Dolphin Explorer E20
In ground best seller
Dolphin Nautilus CC Plus
In ground waterline cleaning best seller
Dolphin Triton PS
In ground premium best seller
Dolphin Nautilus CC Supreme
Still not sure which model you want? We have also developed a product compare tool where you can visually see the difference between selected models.
Why Dolphin and Pool Partz?
Since 2011, Pool Partz has specialized in the Maytronics Dolphin line of robotic pool cleaners. When you buy from Pool Partz, you are buying from a company that has a great relationship with the manufacturer due to volume of pool cleaners that we sell. We take great pride in our customer service department and selling certified refurbished units where customers can get significant savings and be able to purchase a Dolphin pool robot. We do not sell any other brand of robotic pool cleaner because the Dolphin line is simply the best robotic cleaner on the market.
Still have questions? Please contact us here and we'll get right back to you.